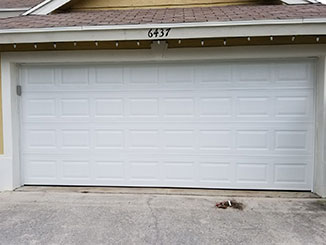 Is your door making strange noises? A lot of squeaking, perhaps? Some strange rattling here and there? These are telltale signs that some maintenance is in order. Making sure the tension of the springs is ideal and that the opener's safety features are functioning correctly is incredibly important, and should be done regularly. The service visits our company provides will take care of that, as well as of many other things that will make your system last for as long as it can.
First Thing First
Let's talk about getting rid of those noises we mentioned. Due to friction, the moving metal parts of your system are bound to start making grinding sounds after a while. To prevent this, or to at the very least reduce this, we will lubricate them properly, which will help the door move more smoothly as well. The rollers, hinges, and bearings will all be treated, and you'll be able to feel the difference practically right away.
A Little Spring Care
Every part of the system has an important role, so when we say the springs are probably the most important parts (after the panels of course) we mean it. These hardworking components are under tremendous stress and tension every day, and the wear and tear they sustain will eventually cause them to snap. We will test the balance of your door to determine whether spring adjustment is needed. This is a dangerous task, which we will perform with the highest regard for safety.
Did Someone Say Safety?
Yes, we certainly did. That's one of the most important things to check when servicing a garage door. Your automatic system comes equipped with a few different features that make sure it doesn't accidently close while there's a person or an object in its way, however, these mechanisms can malfunction, and it is therefore important to test them periodically to make sure they're still working correctly. We will test both of your opener's photo eye sensors to see if their alignment is precise, and we will also check the auto-reverse mechanism to ensure the door opens back up when it meets an obstacle while attempting to close.
Get The Most Out Of Your System
By letting our team at Garage Door Repair Bee Cave service your system, you'll be able to avoid preventable problems which will cost you money and put your well-being at risk. Call us today to schedule a maintenance appointment.
Need more? We also provide:

New Garage Doors

Fix Garage Door Track

Replace Door Sections

Bottom Seal Rubber