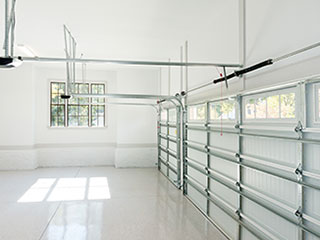 Many common garage door problems can be traced back to the opener. The wide variety of electrical and mechanical faults that these units can develop means they can malfunction in many different ways. Circuit boards can glitch, motor gears can wear out, and chain or belt drives can be damaged. Whatever the case, our technicians have the skills and experience to quickly repair any of these problems, or any other ones that may appear.
Repairing Your Malfunctioning Opener
The opener is the brain of your garage door system. Therefore, not only does it need to work quickly and smoothly, it also needs to provide many safety and security features that help keep your property and family protected. If you notice that your opener is making a lot of noise, or isn't moving as smoothly as it should, get in touch with our team. We'll be happy to diagnose the underlying problem and then repair it.
Expert Maintenance Services
An excellent way to prevent issues from rising in the first place is to schedule regular maintenance appointments with our team. This gives us a chance to check for signs of wear, to clean and lubricate moving parts, and to perform any adjustments to the safety sensors that might be necessary. These units need to be tested somewhat regularly to make sure their alignment is correct and that they're able to detect obstacles without any trouble. If these photo eyes fail to do their job properly, your safety could be compromised. You can count on our team to check them, test them and even replace them if it proves to be necessary.
New Opener Installation
A new motor unit is a great investment; modern models aren't just faster, quieter, and more reliable than older ones, they often come with a wide range of technological improvements as well. If you're thinking of buying a new garage door opener, contact our team before making a decision; we'll provide the expert guidance you need to ensure you get the right system for your garage. Once you've made a choice, we'll install the new model to the highest professional standards, and make sure that all of its features are working as well as they're supposed to be.
Contact Our Team Today
If your current opener is giving you problems, or if you want to get a new modern model installed, give our experts at Garage Door Repair Bee Cave a call. We're always happy to help with any issue.
Count on our team for:

Oil Tempered Torsion Springs

24 Hour Garage Door Service

New Garage Door Keypads

Garage Door Out of Track