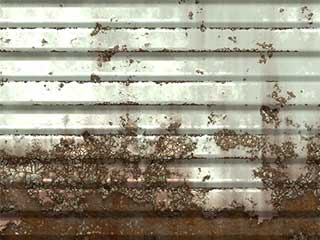 Most modern overhead garage doors come with panels as well as hardware parts made from steel. While this alloy is super strong and generally retains good durability, it is not naturally protected from the environment. When exposed to air and moisture for a long period of time, it can begin to rust and corrode. While rust can be effectively removed, it is always easier to take preventive measures. Find out more below.
Paint, Paint, Paint!

The most important measure you can take to protect your steel panels is to coat them with a suitable external paint right after installation. You don't want to leave your unit completely exposed to the elements even for a few days. The choice of paint is extremely important. Exterior-grade product must be used. Only this type of paint provides effective protection from moisture and consequently from rust. You should also check whether the manufacturer of your unit has additional requirements. Most often, latex-based paint is recommended.

The Inside & Out

We recommend painting the exterior and interior surfaces of your panels for best results. It is also obviously crucial for the paint to be left to dry before the door is operated, so make sure you factor this in when scheduling in time to paint. Usually, the paint will take at least eight hours to dry, but you may want to leave the paint to dry overnight to be on the safe side. We also recommend recoating your panels once a year.

Weather Seals For Added Protection

The addition of weather seals is another major protective measure to adopt to keep your system in good condition. Not only will these seals help to block water from getting inside your system, but they'll also prevent moisture from affecting the sides of the panels. For this reason, it's best to use not only a vinyl bottom seal but also side and top weather strips.

Lubricate Any Galvanized Steel

If your metal garage door parts are made from galvanized steel, they don't need any additional protection as their zinc coating already comes with protective attributes. Still, it pays to schedule in lubrication maintenance from time to time - the lubricant will help to prevent the moving parts from coming into direct contact with the moisture.

Clean Your Floor & Driveway!

Another really important measure is to clean and rinse your garage floor and driveway on a regular basis. The presence of chemicals on these surfaces which come into contact with the lower parts of your garage door system and potentially damage their protective coating.
Finally, keep in mind that the protection from rust is an ongoing process. In addition, to repainting the panels and providing lubrication on a regular basis, you also need to change the weather seals when they wear out. Our team provides regular maintenance services, so we can look after all of this for you if you'd like - just get in touch with us at Garage Door Repair Bee Cave!