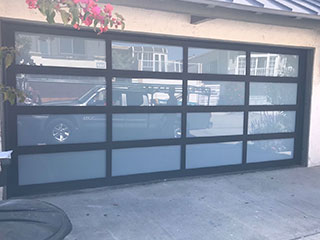 If you're experiencing a problem with your garage door system, our local team at Garage Door Repair Bee Cave is here to help you out. Whether it's a problem with the cables, rollers, sensors, remote or any other part, you can count on us to take care of it.
Faulty Springs – Never a DIY Matter
You won't be able to lift your heavy garage door without the assistance of torsion or extension springs. These very important components bear most of the weight of your door, whether you're operating the door manually or with the help of an opener. This is why if they break, you'll need to get them replaced immediately to continue operating your system. If your springs are looking worn or have already broken, you should never try and replace these components yourself - these parts of your system can be very dangerous and the risk is just too high.
Replacing Broken Panels
Your garage door will probably endure a lot of abuse throughout the years. Most of these will be par for the course − a dent here, a scratch there, no big deal. Sometimes more serious accidents can happen though, whether caused by a knock to the panels by your car or extreme weather. If one or more of your panels has broken and needs to be replaced, we can look after this for you.
Opener Troubleshooting & Repair
Garage door openers automate what would otherwise be a very tedious task each time you drive in and out of your garage. We don't commonly have to give a lot of thought to these components...that is until something goes wrong. If you find yourself suddenly unable to open or your close door because your opener won't respond, this can derail your whole day. Unfortunately, opener related problems can be a bit tricky to identify straight away: The quickest way to get the problem sorted so that you can get in and out of your garage is to call our professionals for troubleshooting and repair assistance. Let us know it's urgent and we'll do our best to get to you as quickly as possible.
Further questions? Wish to make an appointment? Just get in touch with our team at Bee Cave, we're here to help!
We also offer:

Belt Drive Opener Installation

Commercial Garage Door Repair

Opener Sensor Replacement

Garage Door Safety Inspections