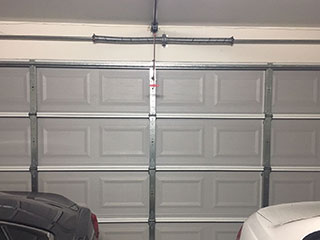 A lot of homeowners are tempted to try and fix their garage door on their own when it breaks down. If the problem has anything to do with the springs, though, you should never attempt to do so. These components are under tremendous stress, and the tension stored in their coils can be very dangerous when it gets violently released, which is what happens when they break.
Careful Spring Adjustment
After some years pass, these components begin to lose some of their tension, and you may suddenly discover that your door has trouble staying open, or can barely open at all. If this happens, give us a call. Our technicians will test the balance of your door and adjust the springs accordingly. We'll also lubricate them in order to promote a more efficient and silent performance.
Broken Spring Replacement
Eventually, these components will end up breaking, unless they are replaced before they get a chance. You can tell that a spring broke rather easily. For once, you'll hear a loud BANG and your door will most likely slam down and will be impossible to open afterwards. While that means the tension of the broken spring is no longer there, the act of removing it and installing a new one is still very dangerous, as it involves loading a new unit with tension. Leave it to our experts and avoid the potential risks involved in mishandling these dangerous components.
Understanding The Two Types
You can easily tell which kind of garage door springs you have by looking at them. Torsion units are installed just above the door, parallel to its length. Usually a single one is all that's needed to support the weight of an average door. That torsion spring is fitted along a metal shaft which rotates and thus winds or unwinds it with tension. That tension is then conveyed to drums which rotate and collect or release cables that lift or lower the panels accordingly. Extension springs are installed in a pair, one on each side of the door moving towards the inside of the garage, parallel to the ceiling. They stretch while the door lowers and contract in order to help lift it back up. Because they're more likely to whip around when they snap, they are secured with safety cables, which anchor them in case they break and prevent them from flying off.
Contact Our Team Today
If you need emergency spring replacement, you can rest assured our experts at Garage Door Repair Bee Cave will rush to help you as quickly as possible. We also services that will see to it that these crucial components are in the best shape possible. Reach out to us anytime.
Want more? Let us take care of:

Garage Door Adjustment

Garage Door Receiver Repair

Noisy Doors Silenced

Damaged Parts Replacement